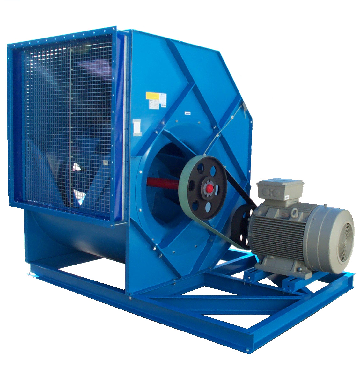 MHZ & MAZ (Double width double inlet Housed fans)
FEATURES:
Fully welded, DWDI backward curved (MHZ) or true airfoil (MAZ) wheel designs available for semi-industrial applications.
Wheel sizes available from 12 inch through 70 inch diameters.
Impeller and shaft statically and dynamically balanced at Grade G2.5.
Fully welded housing, reinforced and painted with corrosion resistant epoxy.
Bearing support is a separate component. It can be easily removed, as the inlet cone, for easy access to the wheel. The housing is then left in place.
BENEFITS:
Fans are suitable for applications up to 16 inches WG SP, and 275,000CFM.
TE in excess of 80% for MHZ and MAZ fans.
Upon request, stainless steel and hot dip galvanized construction is available.
Excellent selection for naval industries, off shore installations, the electronics sector, and when heavy duty HVAC applications call for a semi-industrial quality fan.
Can also be supplied to meet ATEX Directives.