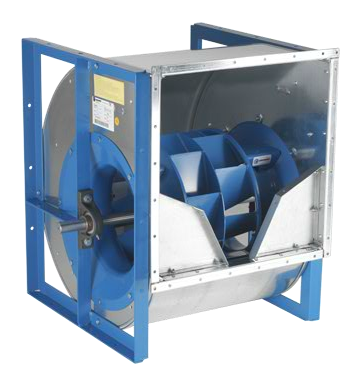 ATZAF FF (Double width double inlet airfoil housed fan)
FEATURES:
Steel impeller with 10 (x2) Airfoil blades, continuously welded. Wheel diameters range from 12" to 49".
Galvanized inlet cone with Forefinger (patented) and housing.
Housing spot welded up to size 18'', with Pittsburgh closure from size 20"
Low maintenance ball or roller bearings
Impeller with shaft statically and dynamically balanced at G 2.5
Trapezoidal cut-off
BENEFITS:
Suitable for applications up to 13.5" WG SP and volumes to 130,000 CFM
Peak efficiencies over 80%
Easy interchangeability with ATLI models thanks to standardized dimensioning.
FOREFINGER BENEFITS:
Increased airflow and pressure: for a required volume and pressure the fan can run at lower rpm or can be selected smaller
More uniform flow at the fan outlet for improved filter and coil efficiency
Wider working range with high efficiency
Significant reduction of noise, especially in the low frequencies
Downloads: